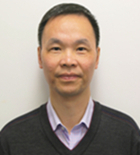 Prof. Huiyu Zhou
University of Leicester
Dr. Huiyu Zhou received a Bachelor of Engineering degree in Radio Technology from Huazhong University of Science and Technology of China, and a Master of Science degree in Biomedical Engineering from University of Dundee of United Kingdom, respectively. He was awarded a Doctor of Philosophy degree in Computer Vision from Heriot-Watt University, Edinburgh, United Kingdom. Dr. Zhou currently is a full Professor at School of Computing and Mathematical Sciences, University of Leicester, United Kingdom. He has published over 400 peer-reviewed papers in the field. He was the recipient of "CVIU 2012 Most Cited Paper Award", "MIUA 2020 Best Paper Award", "ICPRAM 2016 Best Paper Award" and was nominated for "ICPRAM 2017 Best Student Paper Award" and "MBEC 2006 Nightingale Prize". His research work has been or is being supported by UK EPSRC, ESRC, AHRC, MRC, EU, Royal Society, Leverhulme Trust, Invest NI, Puffin Trust, Alzheimer's Research UK, Invest NI and industry. Homepage: https://le.ac.uk/people/huiyu-zhou.
Speech Title: "Artificial Intelligence Technologies for Healthcare"
Abstract: Artificial intelligence has significantly influenced the health sector for years by delivering novel assistive technologies from robotic surgery to versatile biosensors that enable remote diagnosis and efficient treatment. While the COVID-19 pandemic is devastating, the uses of AI in the healthcare sector are dramatically increasing and it is a critical time to look at its impact in different aspects. In this talk, I will introduce the application of new deep learning models in medical image understanding. Then, I will discuss Parkinson's disease (PD) whilst investigating the behaviour analysis of PD mice. I also present the use of machine learning technologies in sentiment analysis, followed by the discussion on several challenges.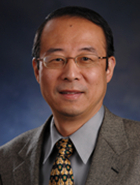 Chair Professor Yi Pan
Chinese Academy of Sciences
Dr. Yi Pan is currently a Chair Professor and the Dean of the College of Computer Science and Control Engineering, Shenzhen Institute of Advanced Technologies, Chinese Academy of Sciences and Regents' Professor Emeritus at Georgia State University. He served as Chair of Computer Science Department at Georgia State University from 2005 to 2020. He has also served as an Interim Associate Dean and Chair of Biology Department during 2013-2017. Dr. Pan joined Georgia State University in 2000, was promoted to full professor in 2004, named a Distinguished University Professor in 2013 and designated a Regents' Professor (the highest recognition given to a faculty member by the University System of Georgia) in 2015. Dr. Pan received his B.Eng. and M.Eng. degrees in computer engineering from Tsinghua University, China, in 1982 and 1984, respectively, and his Ph.D. degree in computer science from the University of Pittsburgh, USA, in 1991. His profile has been featured as a distinguished alumnus in both Tsinghua Alumni Newsletter and University of Pittsburgh CS Alumni Newsletter. Dr. Pan's current research interests mainly include bioinformatics and health informatics using big data analytics, cloud computing, and machine learning technologies. Dr. Pan has published more than 450 papers including over 250 journal papers with more than 100 papers published in IEEE/ACM Transactions/Journals. In addition, he has edited/authored 43 books. His work has been cited more than 19000 times based on Google Scholar and his current h-index is 89. Dr. Pan has served as an editor-in-chief or editorial board member for 20 journals including 7 IEEE Transactions. Currently, he is serving as an Associate Editor-in-Chief of IEEE/ACM Transactions on Computational Biology and Bioinformatics. He is the recipient of many awards including one IEEE Transactions Best Paper Award, five IEEE and other international conference or journal Best Paper Awards, 4 IBM Faculty Awards, 2 JSPS Senior Invitation Fellowships, IEEE BIBE Outstanding Achievement Award, IEEE Outstanding Leadership Award, NSF Research Opportunity Award, and AFOSR Summer Faculty Research Fellowship. He has organized numerous international conferences and delivered keynote speeches at over 60 international conferences around the world.
Speech Title: "Biological Multiple Sequence Alignment: Scoring Functions, Algorithms, and Evaluations"
Abstract: Aligning multiple biological sequences is a fundamental task in bioinformatics and sequence analysis. These alignments may contain invaluable information that scientists need to predict the sequences' structures, determine the evolutionary relationships between them, or discover drug-like compounds that can bind to the sequences. MSA also has many applications in Next-Generation Sequencing (NGS) data analysis such aligning multiple short reads. Unfortunately, multiple sequence alignment (MSA) is NP-Complete. In addition, the lack of a reliable scoring method makes it very hard to align the sequences reliably and to evaluate the alignment outcomes. In this talk, I will describe a new scoring method for use in biological multiple sequence alignment. Our scoring method encapsulates stereo-chemical properties of sequence residues and their substitution probabilities into a tree-structure scoring scheme. In addition to the new scoring scheme, we have designed an overlapping sequence clustering algorithm to use in our three new multiple sequence alignment algorithms. One of our alignment algorithms uses a dynamic weighted guidance tree to perform multiple sequence alignment in progressive fashion. The use of dynamic weighted tree allows errors in the early alignment stages to be corrected in the subsequence stages. Other two algorithms utilize sequence knowledge and sequence consistency to produce biological meaningful sequence alignments. The sequence knowledge-based algorithm utilizes the existing biological sequence knowledge databases such as Swiss-Prot to guide sequence alignment. When sequence knowledge databases are not available, the sequence consistency-based algorithm can utilize the consistency information from the input sequence to achieve a similar effect. Experimental results and theoretical analysis indicate that our new scoring function and alignment algorithms truly improve the current best multiple sequence alignment algorithms.
More speakers are updating.